Challenging Inequality - International Women's Day
By Emily Wilson, Communications Officer
We don't need any excuse to lift up women. Opportunity International empowers and respects women in every programme we design, donation we receive and plan we make. This years' theme for International Women's Day #ChooseToChallenge inequality aligns with everything we stand for. It's the perfect time to celebrate the women who are already forging an inclusive world.
Introducing Agnes, Janet and Irene, nominated by our staff, for challenging gender bias and everyday stereotypes...
Noah, our Project Coordinator in Uganda, nominates Agnes the 'manager'
I want to lift up Agnes, a senior relations officer at Opportunity Bank Uganda Limited (OBUL). She left her position in Kampala city to serve refugees in the remote Nakivale refugee settlement.
OBUL was quick to get involved with our Refugees, Innovation; Self-reliance and Empowerment (RISE) project. They saw lots of opportunities to provide financial services in Nakivale as its home to over 120,000 refugees.
The difficulty was finding a staff member to run the bank's activities. No one from all 16 of the bank's branches wanted to relocate - not even male staff were up for the challenge. Until the regional manager mentioned an unusual choice – Agnes Mukandekezi. Agnes immediately accepted the challenge, leaving her comfortable house and well-established job in Kampala. She handed her 3-year-old son to her parents and moved to remote Nakivale, more than 260kms away.
To date, Agnes has enabled over 1,800 refugees to access financial literacy. Helped 786 open savings accounts and 185 access micro loans for their small businesses. Referred to as 'manager' in the settlement, Agnes challenges stereotypes that women cannot deliver success in challenging and remote communities.
women as water and sanitation leaders - deborah, opportunity's senior advisor to the ceo, nominates janet in kumasi ghana
Around the world, women and girls are the primary providers, managers and users of water. Women are also the key water decision-makers at the household level.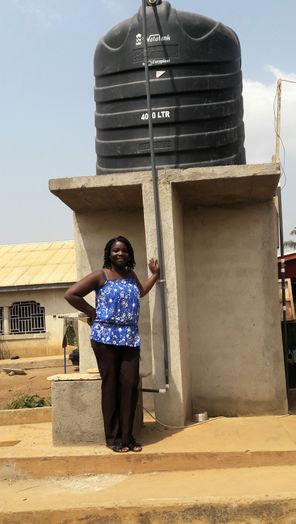 Despite their central role in domestic water management, women make up less than 17% of the water, sanitation, and hygiene (WASH) labour force. And a fraction of the policymakers, regulators and technical experts.[1]
I met one of our clients Janet in Kumasi, who is challenging gender stereotypes in the water management sector. Janet is a young entrepreneur who manages a public water stand post facility in a peri-urban community. The community has inadequate supply and access to portable water and depends on hand dug wells. In 2015, Janet embarked on an ambitious plan to improve the water situation in the area. She approached the local assembly and obtained a 10-year agreement to use the land. With a series of loans from our local partner Sinapi Aba, Janet constructed four public water stands and employs local women to run them.
Janet is providing fresh, running water to an entire community and challenging gender inequalities within WASH service provision. I admire her efforts to both encourage and facilitate women's employment in the water sector.
challening traditional education - a nomination from mandy, one of our senior programme managers
I'm nominating Irene Mutumba, Founder and Country Director of the Private Education Development Network (PEDN), a core partner for our Ugandan education projects. She established PEDN to spearhead the transformation of education and learning in development. As an Ashoka Fellow, Irene also challenges the traditional education system in Uganda by creating a new learning environment encouraging young people to think and act like entrepreneurs. Through her youth-led and community-supported clubs, youth get the opportunities to be creative, demonstrate initiative, and approach learning in new ways.
Irene's passion and enthusiasm for empowering students and youth shines through her work and cascades through her team. Irene is always keen to innovate and challenge PEDN. The adaptive environment she's curated meets, and quickly, responds to the emerging needs of student and youth. Irene has presented at conferences around the world, inspiring others through her entrepreneurial focus to education. After every meeting with Irene, I feel motivated and enthused, feeling anything is possible. I am very grateful that she welcomed me into the PEDN family.
Share this blog with someone who has inspired you by challenging stereotypes. Let them know how you respect and admire their fight for equality.
Meet more of the inspirational women we work with who are forging the way for an inclusive world, choosing to challenge inequality, bias and stereotypes.
Follow our social media pages to share these stories of amazing women with your friends and family.
[1] International Water Association, An avoidable crisis: WASH human resource capacity gaps in 15 developing economies, 2014
Sign up to our Newsletter