A Journey to Ghana
By Sharon Williams, Development Manager
This International Women's Day we have a story full of hope and potential. So come with us on a journey to Ghana in celebration of this special day.......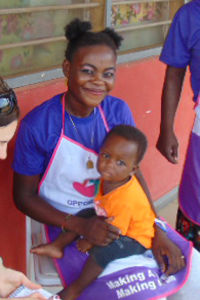 Iddrisu is with her youngest child who made the journey to Accra with her. (Photo: Daniella Hawkins)
Iddrisu is a young, outgoing and ambitious women. She is also a single parent to three children aged 8, 5 and 1. Like many living in Ghana's northern region, she is poor, having had a limited education and few opportunities to lift herself out of poverty.
Iddrisu made the difficult decision to leave her two eldest children with her mother and travel the length of the country to the capital city Accra. She came in search of employment. She wanted to earn more money to provide for her children. What lay ahead was a much harder life than she expected.......
Iddrisu found work as a head porter - locally known as kayayei - carrying people's heavy shopping on her head, often for very small sums of money.
There are around 20,000 young girls in Accra doing this type of informal and dangerous work. Many sleep rough and are exposed to theft, exploitation, abuse and violence. They are also at risk of being hit by cars as they often stand in traffic or by the side of the road.
Iddrisu reveals "My plan was to gather enough money to take home but it was hand to mouth. There was not enough." She felt trapped in a high risk environment, with no money to fund the journey back to her children and her home.
Thankfully this changed when she was introduced to Opportunity International. She joined our residential vocational training programme, which trains clients on how to develop a business, manage money and make good 'lifestyle' choices. It also provides business start-up kits and loans to help them establish their own businesses.
Iddrisu has set up her first savings account, and learnt how to keep her money safe. Once she finishes the programme, she plans to return home to her family: "I want to go back to the North to do a beading business."
Your support gives women like Iddrisu in Ghana, and across Sub-Saharan Africa, the opportunity to develop livelihoods that put food on the table and enables their children to go to school.
This International Women's Day we celebrate women like Iddrisu – resilient and determined in the face of hardship, deserving of an opportunity that will unleash their full potential.
Iddrisu is pictured above with other young women on the vocational course and their children. (Photo: Daniella Hawkins)
Next Article
Better Together: Tackling Poverty in Partnership
Sign up to our Newsletter