Following the announcement of the Sustainable Development Goals in 2015, the debate continues regarding the role of public and private education in the developing world. With unquestioning agreement regarding the importance of education, scholars and practitioners are deliberating the minutiae of how to impact today's young people – and how to do so cost-effectively, sustainably and well. It's a debate that can immediately get complicated and lost in the weeds of policy and opinion.
Within this ongoing conversation, Opportunity International's Education Finance (EduFinance) initiative is driven by one simple vision with regard to education: get kids into school now.
There is a generation of children who need to learn now – not decades from now once the global development community is able to invest in good governance and local economies have a more robust tax base with which to fund public schools. Today's children need an immediate, sustainable stop-gap that will enable them to learn, grow and become those successful adults driving tomorrow's economy; an economy that will be able to better support public education.
For the children of today and the public education of tomorrow, we need sustainable, high-quality private schools now.
The Big Goal (SDG 4) including the current challenges of education
The development community generally agrees that one of the keys to unlocking a brighter, more prosperous future for those living in extreme poverty is education. Education influences economic productivity, health outcomes, family planning, tolerance and peace building, and gender equality, among others. Yet despite remarkable progress over the past several decades, 264 million children, adolescents and youth remain out of school today, 94 million of whom live in sub-Saharan Africa.[i]
Because education is so critical to progress, and because we have yet to achieve universal education, the UN established Sustainable Development Goal #4:
"Ensure inclusive and quality education for all and promote lifelong learning."
In order to achieve this goal, we must first collectively overcome a number of hurdles facing the education system in the developing world. In order to serve the needs of children around the world both today and in the years to come, schools must be accessible, high-quality and sustainable.
Accessibility
In order for kids to go to school, there must first exist a school that they can attend.
This means that physically, there is a school that children can get to – close enough to home that they don't spend their whole day traveling, and a safe enough journey that parents are willing to let their children make it. For rural families, school infrastructure in and of itself presents a barrier to education. And for those living in conflict regions – nearly 50% of the out-of-primary-school population – schools may simply be unavailable.
If there is a school within reach, it needs to be financially accessible. This means that parents can not only afford school fees and the associated costs of uniforms, books and supplies, but also that families are willing to prioritize education over other income-generating activities for their children.[ii]
Girls in particular face barriers accessing education stemming from gender discrimination, cultural norms and simple biology as girls enter puberty. And while gender parity in education has improved in the last few decades, "the average girls' net enrollment rate in [developing countries] is [still] more than 5 percentage points lower than the average low-income countries, more than 16 percentage points lower than for middle-income countries, and more than 20 percentage points lower than for in high-income countries."[iii] Despite what we know about the power of educating girls, girls still face disproportionate barriers starting and completing their educations.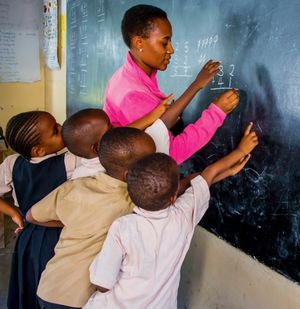 Quality
Once a child is in a classroom, she must then be able to learn.
For so many students in the developing world, simply attending school doesn't guarantee an education. Teachers are regularly untrained – and that is assuming they show up to teach in the first place. And in crowded classrooms without sufficient materials and resources, even trained teachers struggle to teach effectively.
The result is a generation of children – even those who have attended years of school – who are illiterate. Over 30% of those students who have completed four years of education in Africa cannot read at the minimum expected standard.[iv]
Sustainability
In order to create lasting change in the education sector and raise up the next generation of young leaders, education should not only available and of a high quality, but sustainable.
It is unsurprising that those countries most plagued with extreme poverty and political instability also struggle to keep their children in school. And unfortunately, building a stable government and economy takes time – time that today's children simply don't have.
Developing innovative strategies that make schools not only good and available, but also financially sustainable will open up the doors of education to millions of children – and keep those doors open moving forward.
Challenges of Public School
If the metrics by which we are measuring the success of schools are accessibility, quality and sustainability, then many public schools in the developing world are struggling.
So much of educational quality begins with teachers, and in public schools around the world, teachers are woefully untrained or simply not present. In the words of a parent in Nigeria, "The public teachers don't feel obligated coming to school."[v] And the data supports him. A World Bank study found that public primary school teachers in some African countries were absent 15-25% of the time.[vi] When visiting rural schools in India, researchers noted that a quarter of teachers weren't in the classroom.[vii]
When teachers do man their posts in the school, they often face classrooms crammed with children. Half of schools have more than 50 students per teacher, making it wildly difficult to maintain a level of crowd control, let alone teach.[viii] In the words of Justin Sandefur from the Center for Global Development, "Kids are going to school; they're just not learning anything."[ix]
In conflict zones, the problem becomes even more dire. In these regions, one quarter of school-aged children are not in school. The UNICEF Chief of Education said, "Children living in countries affected by conflict have lost their homes, family members, friends, safety and routine. Now, unable to learn even the basic reading and writing skills, they are at risk of losing their futures and missing out on the opportunity to contribute to their economies and societies when they reach adulthood."[x]
Get Kids in School: The Role of Private Education
Over the past 20 years, there has been a rise in the prevalence of private institutions in the developing world offering an alternative to the public school system. But unlike private education in the United States or other parts of the west, the majority of these schools are low-cost and focus on those living in extreme poverty. Since 1990, private school enrollment in poor communities has doubled – now accounting for "over 20 percent of total primary school enrollment in low-income countries."[xi]
The question is: why?
Why is private school such a popular alternative, and what advantages does it provide? Is it able to address the three-fold challenges of accessibility, quality and sustainability, or are we better served to invest in improving the public school system?
The answer, of course, is complicated. Scholars vary in their opinions about the best course of action moving forward, but one thing is clear: private school works – for both students and the broader economy.
With regard to accessibility, privatized education allows small-scale entrepreneurs to identify and address openings in the market and build schools where they currently are not. In the Mathare slum in Kenya, for example, there are just 4 public schools, but 120 private ones – serving the needs of the many children in the area.[xii]
These same private schools, when equipped with targeted financial services from Opportunity International, have access to the resources they need to make their schools even more accessible to the students who have formerly been most excluded from the formal education system. With the freedom to access loans to construct private sanitation facilities, for example, private school proprietors make it possible for girls to stay in school, even as they grow – moving us closer to the SDG4 targets, "Eliminate gender disparities in education" and "Build and upgrade education facilities that are child, disability and gender sensitive."[xiii]
Private education statistically improves the quality of education as well – an SDG4 target in and of itself. According to a study by the Center for Global Development, "When private enrollment goes up in a district, overall test performance rises as well – a phenomenon that can't be explained merely by the sorting of good pupils into good schools." Independent of the caliber of a student entering a private school, she is more likely to perform academically in this environment.
This data comes despite the fact that private schools often hire younger, less-trained teachers, perhaps because they hire more of them – meaning that classrooms are less crowded and teachers can actually teach. And as a part of the private economy, teachers in private schools are subject to the same standards as any business employee, meaning that they are expected to show up to work and do their job. Nobel laureate Amartya Sen noted, "In private school, the teachers are accountable to the manager (who can fire them), and, through him or her, to the parents (who can withdraw their children)."[xiv] As a result, studies show that "private schools have a longer school day, a longer school year, lower teacher absence, higher teaching activity and better school hygiene."[xv]
And because of their positions in the private sector, private schools are in a unique position to serve as a testing ground for new educational strategies that can be rolled out to serve both the private and public education systems. Indeed, Opportunity International's Education Finance Initiatives have done just that – piloting numerous concepts in private schools, some of which have failed, but many of which have revolutionized the access and quality of education in those communities.
Ultimately, private schools allow us to achieve our most pressing goal: get kids in school now.
Of course, the challenge here is that private schools are not free. Parents need to invest in their children's education, but as Opportunity has seen working with entrepreneurs throughout the developing world, education is the top priority for most families. They work tirelessly building businesses so that their children can go to school and learn the skills and strategies they need to create bright futures for themselves. And if private schools are more likely to ensure a high-quality education, then parents are more likely to send their children there, even if it is costlier to do so.
Opportunity has responded to this need through school fee loans, enabling parents to cover the costs of a private education and giving them the freedom to pay the loan back over time. By spreading out the economic burden of a private education over the course of a year, parents are able to budget for this expense and pay for school fees in installments, as opposed to as a lump sum, making private schools even more accessible to families in need.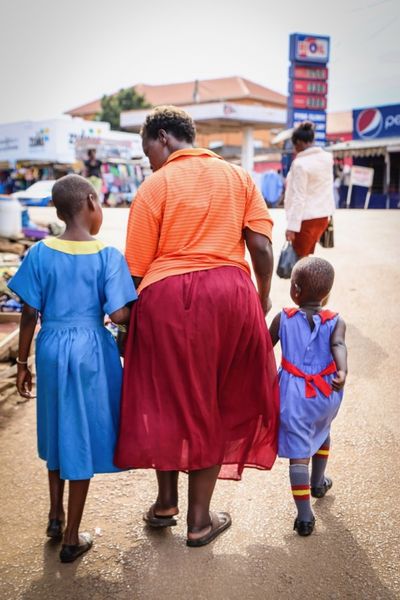 Sustainability of Private Schools
Perhaps the greatest argument for private education in the developing world is the fact that it is sustainable. Because private schools operate within the broader economy, school proprietors have to respond to market needs and deliver desirable services to stay afloat. Indeed, "the most experienced and qualified technocrats, equipped with millions of dollars in aid, have failed to create schools that provide high quality education at a low cost. But inspired entrepreneurs have fostered a marketplace that is accountable to student satisfaction and success. Enabled with the freedom to compete with one another, to utilize local knowledge, these entrepreneurs have achieved a truly remarkable outcome: affordable private schools that are helping the poor."[xvi]
Interestingly, private schools – which often achieve notably better educational outcomes than their public counterparts – spend a third to a half of what the state spends on public education.[xvii] Private schools remain and are growing – and are doing so at low cost. It appears that they are here to stay.
And at Opportunity International, through supporting these schools, we are investing in the future of education, and doing so using financial tools and models that are sustainable and can be replicated time and again.
Challenges of Private Education in Achieving SDG 4
While private schools have notable benefits in educating children and achieving the Sustainable Development Goals, they too have challenges.
Primary of these areas of concern is regulation – guaranteeing the quality of the education provided by small-scale entrepreneurs. As private schools continue to become more prevalent, this will be increasingly important. Developing metrics that track the academic performance of institutions will be critical – and Opportunity International is already investing in this data to ensure the caliber and growth of the schools in which we invest.
Another challenge is keeping school affordable for the students these low-cost private schools most want to attract. Because these institutions are driven by the private market, economics would suggest that those schools that offer the best quality education would raise their prices, effectively pricing out the students they were originally designed to reach.
In order to maintain low-cost, high-quality schools, Opportunity has introduced a number of customized tools and programs. School proprietor loans allow school owners to make larger infrastructural investments in their facilities without needing to dramatically raise school fee prices. And quality-driving programs including school clusters allow school proprietors to learn best practices from each other, improving the quality of education across the board, not just at a small handful of institutions
Best of all, our Education Finance program advances so many of the targets associated with Sustainable Development Goal 4 –advancing not only our own initiatives, but the global development agenda. Through school fee loans, school proprietor loans, and other targeted education tools and training, we address and contribute to SDG4 targets, including: helping improve access for boys and girls to quality education from early child development through to secondary; using financial education and training to help young people develop as workers and entrepreneurs; continuing to promote education for girls and marginalized children; helping nurseries, schools and colleges improve resources and facilities to be gender sensitive, secure and inclusive; and helping improve quality of teachi
The Future of Education in the Developing World
The future of education with regard to public and private schools is not either/or, it's both/and. In order to achieve the Sustainable Development Goal of "inclusive and quality education for all," it will require both the public and private sectors to work to improve access to and quality of education. In order to get the 264 million kids currently out of school, into the classroom, to address the ongoing gender disparity in education, and to improve the quality of the education students receive, both public and private schools need to develop sustainable solutions to serve the needs of children.
In the immediate term, private schools provide a stop-gap. Driven by hardworking, creative entrepreneurs, local schools are proving themselves to be successful alternatives to government education. And by raising up a generation of leaders, private schools are actually making it more likely for public education to thrive in the future. They are equipping the future of the developing world with the skills they will need to invest in and stabilize their own countries so that they can build out the infrastructure and improvements that the public school system requires.
It doesn't serve any of us for kids to remain uneducated, waiting for the long-term solution. Instead, let's do whatever we can to put kids in the classroom now, then fight for strategic, sustainable solutions moving forward.
---
[i] http://uis.unesco.org/en/topic/out-school-children-and-youth
[ii] http://www.globalpartnership.org/focus-areas/out-of-school-children
[iii] https://www.brookings.edu/wp-content/uploads/2016/07/Todays-Challenges-Girls-Educationv6.pdf
[iv] http://www.economist.com/news/briefing/21660063-where-governments-are-failing-provide-youngsters-decent-education-private-sector
[v] http://www.economist.com/news/briefing/21660063-where-governments-are-failing-provide-youngsters-decent-education-private-sector
[vi] http://www.economist.com/news/briefing/21660063-where-governments-are-failing-provide-youngsters-decent-education-private-sector
[vii] http://www.economist.com/news/briefing/21660063-where-governments-are-failing-provide-youngsters-decent-education-private-sector
[viii] http://www.economist.com/news/briefing/21660063-where-governments-are-failing-provide-youngsters-decent-education-private-sector
[ix] https://www.thesolutionsjournal.com/article/public-versus-private-education-what-the-debate-in-the-developing-world-teaches-us/
[x] https://www.unicef.org/media/media_89782.html
[xi] https://oup.silverchair-cdn.com/oup/backfile/Content_public/Journal/qje/130/3/10.1093_qje_qjv013/2/qjv013.pdf?Expires=1492121907&Signature=YFhPmq806EpGX8eyGhEQ65RZtoRqllNMyXZccpZ0U9Y088qOCrk083m9bXXj-3gM38ny1m90T-VCytnftkA5oD4Q4~TTL0M~R0sgNuLctRh3dQDPYR72NKBzPhgdeBFx2zwJmTH10KIPz4g5EkME--prgw9iGRxXi-DhbxCcO3CUoBxftktU~ynCChmxq-pS4qiQMOGkFSZqceXj8fgdQe~40lWPog9VB7aNqoE99XesJk~ZsaIjyIu34sDsVhWtifYkXOlK2BOF4BRexvEGLPEPlWMmlZGsYhJFhq66jFLQLNz0PMQSoqhfyF7Oig5uZu7if8dujS5Plham5Yp0cw__&Key-Pair-Id=APKAIUCZBIA4LVPAVW3Q
[xii] http://www.economist.com/news/leaders/21660113-private-schools-are-booming-poor-countries-governments-should-either-help-them-or-get-out
[xiii] http://www.un.org/sustainabledevelopment/education/
[xiv] https://cei.org/blog/low-cost-private-schools-success-developing-world-families
[xv] https://oup.silverchair-cdn.com/oup/backfile/Content_public/Journal/qje/130/3/10.1093_qje_qjv013/2/qjv013.pdf?Expires=1492121907&Signature=YFhPmq806EpGX8eyGhEQ65RZtoRqllNMyXZccpZ0U9Y088qOCrk083m9bXXj-3gM38ny1m90T-VCytnftkA5oD4Q4~TTL0M~R0sgNuLctRh3dQDPYR72NKBzPhgdeBFx2zwJmTH10KIPz4g5EkME--prgw9iGRxXi-DhbxCcO3CUoBxftktU~ynCChmxq-pS4qiQMOGkFSZqceXj8fgdQe~40lWPog9VB7aNqoE99XesJk~ZsaIjyIu34sDsVhWtifYkXOlK2BOF4BRexvEGLPEPlWMmlZGsYhJFhq66jFLQLNz0PMQSoqhfyF7Oig5uZu7if8dujS5Plham5Yp0cw__&Key-Pair-Id=APKAIUCZBIA4LVPAVW3Q
[xvi] https://cei.org/blog/low-cost-private-schools-success-developing-world-families
[xvii] http://www.economist.com/news/briefing/21660063-where-governments-are-failing-provide-youngsters-decent-education-private-sector
Sign up to our Newsletter