New bank branch in Nakivale Refugee Settlement - officially open
By Noah Ssempijja, Refugee Programme Coordinator
"We're more than elated to announce that our partner bank, Opportunity Bank Uganda, has officially opened it's Nakivale Branch
to the public.
This new branch means
Opportunity can scale up its financial inclusion services to underserved refugee communities
. We can provide financial literacy training and tailored financial services leveraging digital services."
Noah Ssempijja is Opportunity International's Refugee Programme Coordinator in Uganda. He manages our Refugees: Innovation, Self-reliance and Empowerment (RISE) project.
This September Noah celebrated with the team as Opportunity Bank opened a brand-new bank branch in the Nakivale refugee settlement in Uganda

. First of its kind, the bank opens up an enormous opportunity to serve refugees.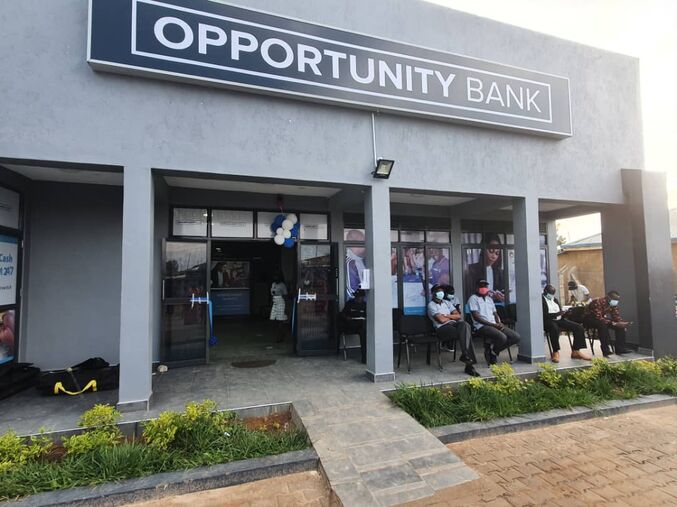 "This Branch
is located
in the heart of the Nakivale Refugee settlement camp in Isingiro District
. Nakivale is home to over 140,000 refugees of diverse cultures and nationalities. We
are excited
to provide our tailored services to them. Which include foreign exchange, savings, financial literacy, and loans."
Opportunity International and partners launched the RISE project in June 2019 to help integrate and
financially
include refugee and host communities
. We promote self-reliance among refugees, help build their resilience and stimulate local economic activity in refugee settlements and the surrounding host communities.
To date, the programme has enabled over 1,400 refugees to open bank accounts.
More than 254 loans have
been disbursed
and over 4,000 refugees have received financial literacy training
.
The RISE project

is aimed

at promoting financial inclusion among refugee and host communities

.

The opening of the bank is a huge step forwards in addressing the needs of these communities in Nakivale Refugee Settlement

.

Opportunity Bank Uganda is the first bank to open a branch in Nakivale which will offer the whole suite of products (savings and loans).

Working through Financial Inclusion Officers, recruited from the refugee communities themselves, OBUL can further raise its profile and continue to deliver financial literacy training

. Mandy Burrows, RISE Programme Manager.
The first of its kind in the refugee settlement, the branch was built in partnership with the Wakati Foundation, a refugee-led organisation based in Nakivale, who employed 32 refugees (12 of whom were women) from Nakivale Settlement to support it's construction.
The bank under construction by Wakati Foundation
Built by refugees, for refugees, the opening of the bank branch is such an exciting step forward for the RISE project

.
"
We had the pleasure of celebrating the branch opening milestone with several of our partners and businesses from the settlement camp
.
We
were joined by
representatives who spoke in support and encouragement of what we are doing
.
The Office of the Prime Minister through the Deputy Commandant pledged to ensure that the bank
is supported
with security and safety at all times
.
We're grateful to the Office of the Prime Minister that allocated us the location on which to build; Wakati Foundation for working with our team to bring the vision to fruition, and to all the partner organisations for their warm welcome
."
Opportunity International remain committed to forming partnerships that align with our purpose: make lives of individuals and communities better
.
Through these solid partnerships we have designed programmes that enable us to serve more women-owned businesses, make deliberate efforts to have a gender balanced work environment, and serve Persons Living with Disabilities, Youth and Refugees
.
Previous Article
Transforming the lives of rural women and their local communities
Sign up to our Newsletter